Get back your DM 70 Hörgenuß
Repair, Refurbishment and modifications,
finishing and refining
of the great B&W Bowers & Wilkins DM70....

The B&W DM 70's are a musically cohesive masterpiece. The Gramophone
The B+W DM 70 was my first Hi-Fi loudspeaker. I bought and imported
it second hand from a London Hi-Fi dealer in 1974. From that time on
I was immediately convinced 1.) of the ESL electrostatic loudspeaker in common, 2.) of the Bowers & Wilkins DM70 especially and last but not least 3.) of the ESL hybrids principle of sound reproduction.
Since that time I learned a lot about the special advantages and the special problems of the B&W DM70. Finally I knew all parts by heart and I was able to make my work on these loudspeakers with closed eyes. All in all I can look back on having a 43 years experience with that special type of electrostatic loudspeaker model.
? DM-70 wanted ?
We nearly always do have some of these fine speakers for sale.
Naturally fully refurbished by us, means acoustically and technically like new or even better. And ten years of warranty
Like this beautiful pair below for example. The average price for this mint item is about 2750€
If you are searching for a special finish or OEM version of the B&W DM70, like e.g. the special DM-70 SONY version or a white model,
give us a call and we will make a reservation for the next available item
We also have a special edition with upgrading features....
.. like this beautiful UK DM70_npu -version below (npu for "non plus ultra"), with heavy duty bass driver and optimized electronics. It is our top quality version of all DM70s ever.
This type is available and for sale from now on
We also are able to lacquer in all other desired finish or colour in our special lacquering workshop.
Coming with ten years of warranty !!
Re-animating and upgrading the B&W DM 70
!Simply lift off the ESL panels and send your jewels in and, if you send the electronics unit as well,
!Please do not follow the safety advice
like a DM70 possessor did on the photo below!
!!There are very much easier ways to
disconnect the unit from mains supply !!
Testimonial
James F., Ashford, Kent, UK

"Reiner, I managed to have a good night listening last night,
wow, really very impressed I wish I had got you to do the
work a long time ago. The only problem now is that I have
to go through my complete music collection as I need to hear
everything again.
They really do sound incredible, the levels, the detail,
the depth, and sound stage are just awesome.
I was impressed before with
the speakers and never wanted to change them, now there is
nothing that will make me sell them.
I cannot say thanks enough Reiner for your work. I am even
leaving work on time which makes my wife happy.
James"

The above mentioned refurbished B&W DM70 has been refurbished by using the Shackman PP foil instead of PET with very new Shackman VLC coating. Furthermore new internal cabling and copperless HV contacts have been used. The latter avoids contact corrosion.

.
Testimonial
Peter K., Germany
Nun funktioniert alles wieder! Klingen wunderbar.
Die Investition hat sich für mich wirklich gelohnt!
Sehr gute Arbeit! Von mir aus nochmals herzlichen Dank.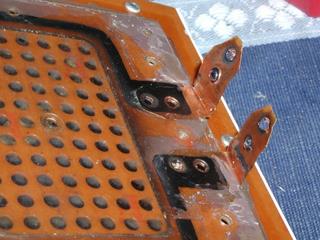 The very sensitive HVconnection
Hello Reiner,




after a long time my speakers are now in perfect working condition once
again. Thank you very much they will give us much enjoyment in the
coming years.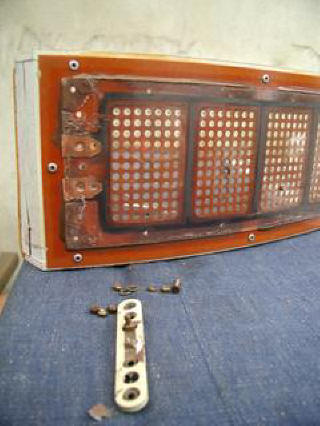 A panel to be refurbished as well as the one below
Testimonial

Herr Roemer
Nothing comes cheap and they play magnicifently again,
but now even better. Great and thanks, beste grusse
Rien G.

Using double sided sticky tape, the result after some decades.
Believe it or not - it was still playing... without "light show".
Probably there are thousands of the DM70 in this condition
running world wide. Wonders could be given to their possessors' ears.
!Let us keep these jewels alive!
!Simply lift off the ESL panels and send them in!
Foam surrounds of bass driver
Nearly impossible to find a DM70 with surrounds in good health. Even if you think, or even see, the surrounds in good shape... once you touch them, they are pulverized to dust.
That leads to lack of bass reproduction and, even more it usually very swiftly results in a burnt voice coil and a dead bass driver.
We fix and repair those broken foam surrounds of the DM70. As the chassis has an unusual diameter the spare foam is very difficult to get. We do do have the right ones.

Exactly fitting spare "foam" surrounds
NOTA BENE: We do NOT repair destroyed/burnt Bowers& Wilkins DM70 bass driver voice coils. But instead we have original spare bass drivers.
If you send in your bass drivers, please pack tem carefully and mount them in the way shown in the photo below.
Further more, we have excellent alternative spare drivers which fully fit the original ones in physical size - but electrically and acoustically even better, and withe ever lasting surrounds.
Please ask for a quote for these extraordinary spare bass drivers. It is from a former 1st class British driver manufacturer, producing for the greatest ones and for B&W as well. We are talking about the LEAK Sandwich Woofer
LEAK Sandwich Woofer, Upgrade bass driver for B&W DM70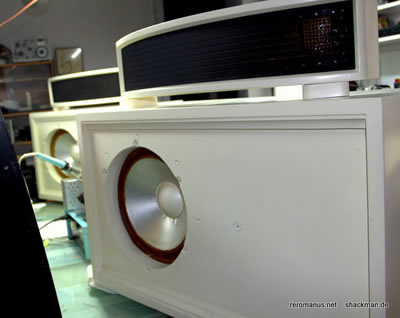 DM70 UIK-Version with Leak Sandwich Woofer
Modifications on the B+W DM70? Why that??
There are not that much weak points in the Bowers and Wilkins DM70s
which are crying for immediate change.
No "usual" modifications would promise any improvement in a good
working DM-70.
Except perhaps some better interior speaker cable from the Input
unit to the bass crossover.
But in case that the bass has been damaged and replaced by an unsuitable
non original one, there may occur level discontinuities between bass driver and ESL tweeter panel. The only known real improvement in bass reproduction would be to replace the original driver with the famous
LEAK SANDWICH WOOFER.




DM 70 with Leak Sandwich-woofer in UK Version of the
A tweak to that would be a level attenuator for the MHT panel
and/or/or an
adjustable bias voltage in the very small range of about 100V to 200V.
That may allow an output variation of +/- 1,25dB. A very good way to improve the tweeter's sound reproduction quality is to add stiffeners to the back and front of the stators.
That improves heavily the distortion values and result in even more natural listening moments.
Stiffeners for segments on DM70 tweeter panel
The royal road to approach a brand new, and even better than original, B&W DM70 ESL Tweeter Unit
Technologically we avoid three imminent weak points
of the B+Ws technical production solutions (other ESL brands as well).
1. The coating material and its resulting long time surface resistivity

2.The adhesive type (no "punctual" heat curing) and its mechanical attachment. No double sided sticky tape.

3. The physical contact area of HV voltage bias supply to the diaphragm.
These three reromanus modifications, or better actualizations with respect to former technological knowledge, are true permanent assurances for an actual longevity of the DM70 electrostatic panels.
Conclusion: Trust in our experience. You will be satisfied.
Repair of B&W Bowers & Wilkins DM70....
!!Get a DIY DM 70 repair kit somewhere and try your luck ...

......or simply give the panels to our jig!
Stretching Process in our Jig
Panel stretching with "Linear technology" devices.
The panel lifting device and the foil seen from below towards the foil sky above
Stretching process.
The panel under the foil tent, ready to be lifted.
Coating and Masking

Masking for coating procedure with air pressure device
For getting new life to your DM 70, simply lift off the ESL tweeter panels and send them to our stretching jig
Have look at our VIDEO for how to remove the tweeter panel from its wooden housing
Prices for our refurbishment services depend on overall status of the panels. No costs for checking. Best lasting results guaranteed. It will pay. For details see price-list.
Some Version History of the B&W DM70

At least 2 different crossover Low pass versions

With two different response curves. Top >1972, bottom 1970-1972

3 different Panel HV short-cut protection versions


4 different EHT power units versions. other connectors and sockets, more and more fuses

This is serial No. mid 100 in our workshops for refurbishment . The very earliest version of the DM70 UK-version , enclosure still in mint shape, like brand new from factory, excellent B&W craftsmanship
No matter what age or serial number .., all refurbished DM70 will come out better than original and at the latest electrical and sound quality standards.
Here you have a final view on a DM70 "Continental" version at its best, refurbished and for sale ..... for you!!!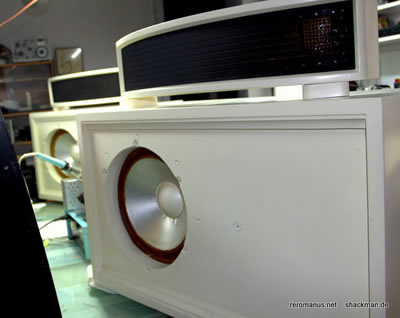 Or this fine upgraded UK-version with Leak Sandwich woofer
Technical and official Product Info
The original "1. Edition" 1970 manual with a remarkable essay of Mr. Bowers on ESL loudspeakers can be downloaded here. (Courtesy J. Fox, U.K.)
The 1974 edition of the Bowers and Wilkins DM70 user manual can be downloaded here.
Shackman Catalog Site Contact Back to top
---
You can also join the SHACKMAN Discussion Group
Actual SHACKMAN auctions Online
---